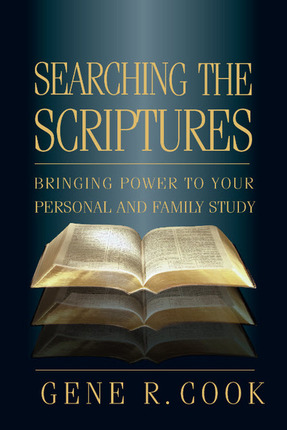 While a member of the First Council of the Seventy, Elder Gene R. Cook wrote what seems to be one of the best books available on studying the scriptures. He has a considerable amount of expertise on the topic, being an Emeritus General Authority of the Church of Jesus Christ of Latter-day Saints.  To our good fortune, we have available to us this book, called "Searching the Scriptures."  The subtitle reads, "Bringing power to your personal and family study."  No truer description of this book could be conceived.
Elder Cook begins with an in-depth elaboration of what the scriptures are.  He insightfully expounds their importance to each of us.  It feels as though his primary purpose is to enlighten, uplift, and edify readers.  Should you wish to gain a solid foundation of scripture study, this book must become part of your library.
The next 70 pages are spent laying out the whats, whys, and hows of personal scripture study.  Elder Cook explains the different facets of feasting upon the word of the Lord.  His recommendations include asking questions, pondering about what is being read, looking for patterns, applying the scriptures to ourselves, and how to receive deeper understanding.
The balance of the book broadens the scope slightly to instruct us regarding family scripture study.  Elder Cook again goes to great lengths to convey his message.  He begins this third section with an explanation of how we will be blessed by studying together as a family.  His personal experience with this subject affords him a wealth of examples, stories, and suggested formats for family scripture study.
A description from DeseretBook.com:
One of the most valuable purposes of the scriptures is to serve as a tool to help us hear the voice of the Lord. But, as Elder Gene R. Cook emphasizes in his book, that blessing doesn't come through casual effort.

In Searching the Scriptures, Elder Cook explores how we can effectively ponder, question, and mark the scriptures and understand how they apply to our lives. He also shares his testimony of the power and blessings that come from knowing God's word. And he gives suggestions on how to organize family study and how to use the scriptures as a way to bless each family member. Relating personal experiences to show what has worked and what hasn't, Elder Cook shares ways to motivate everyone in the family to participate and work to invite the Spirit to be present at reading time.

Elder Cook's hope is to help Latter-day Saints gain a deeper understanding of what scriptures really are and how they apply to us today, and thereby have a desire to learn more from them.
Whether a seasoned scriptorian or someone who just wants to gain a solid foothold on mastering the Gospel, I highly recommend "Searching the Scriptures" by Elder Gene R. Cook.  It spends little time on my own bookshelf, as I gain a deeper understanding of scripture study every time I read it. This book is fully deserving of the spot it has earned in our Recommended Books section.